Toques et Clochers
THE TOQUES & CLOCHERS EVENT
Toques & Clochers, literally meaning "chefs' hats & bell towers", is a charity auction with some of the profits going to the renovation of the 42 clochers (bell towers) in the villages lying within the Limoux appellation area, thereby helping to preserve the local historical and architectural heritage.
Each year, a village is chosen to host this popular auction with a festival attracting nearly 30,000 people, and to celebrate the renovation of its church.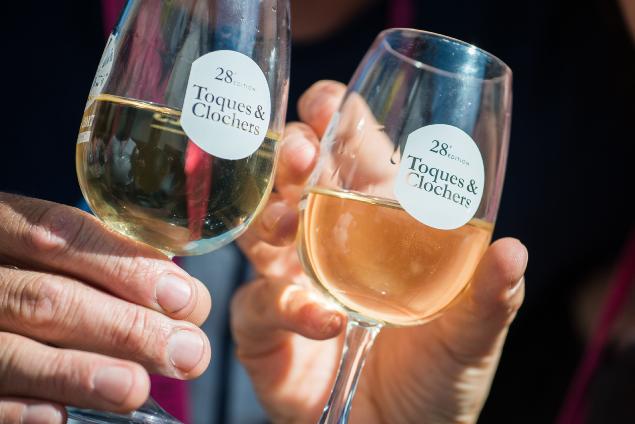 It is also a major event within the wine world. One of the most important wine auctions in France, Toques & Clochers is a great opportunity for wine growers, members of the wine and restaurant trades, and customers from around the world, to come together for a lively, festive weekend. Sieur d'Arques has been organising Toques & Clochers since 1990.
Having survived our oenologists' tough selection process, and having risen to our viticultural specialists' rigorous demands, 42 wine producers have the honour of representing their village's "clocher" and having buyers taste the barrels of wine going up for auction at this festive weekend, to which French and international personalities from the world of gastronomy and wine are invited.
A hundred or so barrels are sold at this auction, which is conducted by Maître Rémy FOURNIER, an auctioneer based in Toulouse and Aymeric DE CLOUET, wine expert to the Paris Court of Appeal, and presided over by a 3-star Michelin chef, who, later that evening, would be preparing a gala dinner for over 400 guests.
Click here to view the 2019 programme
Les Chefs et les Sommeliers
Since the inception of the AOC Limoux, the great chefs have given us indispensable advice on food-wine pairings and the top sommeliers have also shared their knowledge and insight with us. Their combined recommendations have naturally led our oenologists to make further quality enhancements to our wines. This collaboration in the pursuit of aromas and flavours has resulted in great wines with the finesse they display today.
Each year, a 3-star Michelin chef presides over the auction held on Palm Sunday.
Pierre Troisgros was its first President in 1990, since when there has been a succession of top chefs with Gilles GOUJON being the most recent, in 2021:
Pierre TROISGROS
Paul BOCUSE
Alain DUCASSE
Michel GUERARD
Joël ROBUCHON
Alain SENDERENS
Pierre GAGNAIRE
Georges BLANC
Gert DE MANGELEER
Michel LORAIN
Marc HAEBERLIN
Jacques & Laurent POURCEL
Antoine WESTERMANN
Jacques LAMELOISE
Alain PASSARD
Guy MARTIN
Michel TRAMA
Christian LE SQUER
Jonnie BOER
Juan Mari ARZAK
Michel BRAS
Ollivier ROELLINGER
Michel TROISGROS
Massimiliano ALAJMO
Gilles GOUJON
Roberta SUDBRACK
Claude TROISGROS
Roland VILLARD
Regis MARCON
Gérald PASSEDAT
Arnaud LALLEMENT
Arnaud DONCKELE
Patrick BERTRON
A number of top sommeliers have also honoured us with their presence.
From Jean FRAMBOURT in 1990 to Dominique LAPORTE in 2021:
Jean FRAMBOURT
Georges PERTUISET
Patrick PAGES
Guy BLANDIN
Philippe FAURE BRAC
Alain PONTOIZEAU
Maryse ALLAROUSSE
Marc MEREMANS
Georges LEPRE
Henri CHAPON
David BIRAUD
Serge DUBS
Patrick TAMISIER
Patrick MASBATIN
Pierrette AGULHON
Georges GRACIA
Baudoin ARNOULD
Michel HERMET
Antoine PETRUS
Olivier POUSSIER
Jean-Michel DELUC
Dominique LAPORTE
Dionisio CHAVEZ
Andréas LARSSON
Gérard BASSET
Paolo BASSO
Fabrice SOMMIER
Lyonel LECONTE
Joaquim BOUDENS
Antoine Marie BOURLIER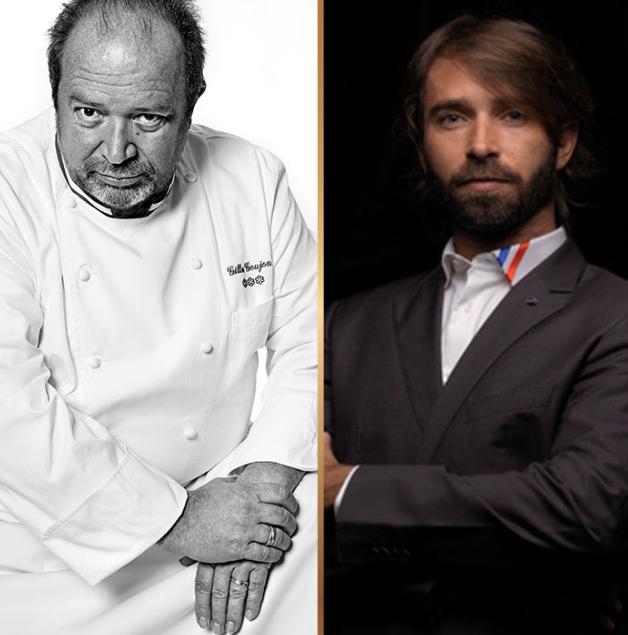 The 2021 event's patrons was Gille GOUJON, chef at the restaurant Au Vieux Puits, and sommelier, Dominique LAPORTE;
They have all given their name to a row of vines identified by the iconic marker stones of the Carré des Toques and the Carré des Sommeliers at Domaine de Flandry, in Limoux.
THE RESTORED BELL TOWERS
Each year, some of the auction's profits go to the restoration of a "clocher" (bell tower) within the appellation area, restoring the original character to these villages in the Haute-Vallée de l'Aude, and thus preserving their rich architectural heritage.
These "clochers" symbolize this unique selection, with 3,800 plots studied in 4 specific terroirs spanning an area boasting 42 "clochers".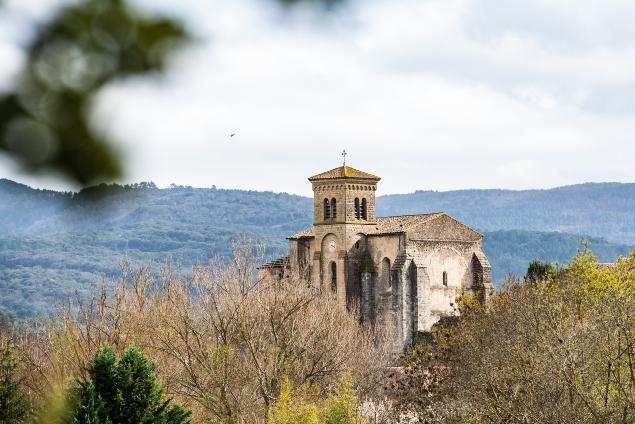 Artists "Avant Première"
Since 2013, four Avant Première crémants de prestige lots have been presented at the auction alongside the traditional barrels of Chardonnay.
Each lot is comprised of 120 bottles of Crémant de Limoux along with a Mathusalem designed by a well-known artist. The four original works are also used on the bottle's packaging, with 120 bottles dressed in a label inspired by each work of art.
Selwyn Senatori, Van Binh, Léo de Faucher, Didier Goessens and Lise Dufaur Mourens have, in turn, brought their talents to bear, adding colour to the event.
.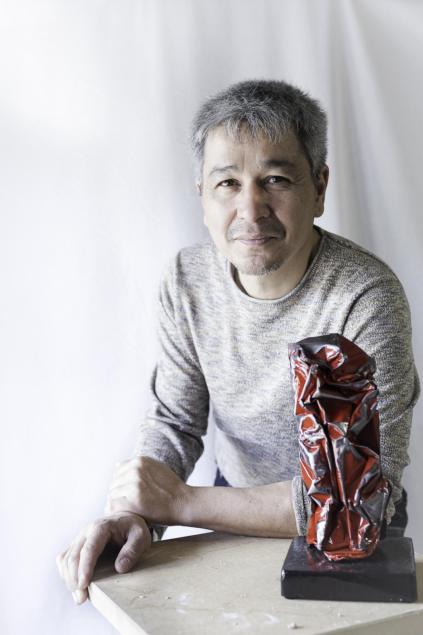 THE PALM SUNDAY WEEKEND EVENT
Come and participate in this great festive weekend organized by the Vignerons du Sieur d'Arques, where you will meet great people, taste the finest cuvées up for auction, and enjoy a gala evening of haute cuisine.
The Festival
This event, open to the general public, attracts members of the wine trade and those who just want to enjoy the tastings and musical entertainment taking place in the wine cellars of a typical village within the appellation. Visitors will also explore our local heritage full of Romanesque and Gothic architectural gems. This event's tour de force is that it brings together those who grow the grapes, those who make the wine, those who sell the wine, and those who drink it, in a convivial and festive atmosphere.
In short, this is an event that everyone enjoys and looks forward to. Like a dance to the tune of the four terroirs, a communion takes place and the night becomes magical. At this event, the wine producers are happy to don their boaters and act as bartenders and ambassadors for a unique product.

Auction
After the tasting on the Sunday morning, at which each wine producer has presented the fruit of his or her work in the beautiful setting of the Château de Flandry, members of the international wine trade are invited to take part in the auction, which is held every year on the afternoon of Palm Sunday. The auctioned barrels are recognized as being unique crus and attain price levels that reflect their high quality.
Each year, some of the auction's profits go to the restoration of a bell tower within the appellation area, restoring the original character to these villages in the Haute-Vallée de l'Aude, and thereby preserving their rich architectural heritage. These "clochers" symbolize this unique selection, with 3,800 plots studied in 4 specific terroirs spanning an area boasting round 40 "clochers" (bell towers). In Limoux we therefore talk about "clochers" in the same way as they refer to "châteaux" or "clos" in other wine regions.
Our wines have been purchased by the international wine trade including top French and international restaurants, important négociants and importers, wine clubs, wine collectors, and sommelier associations.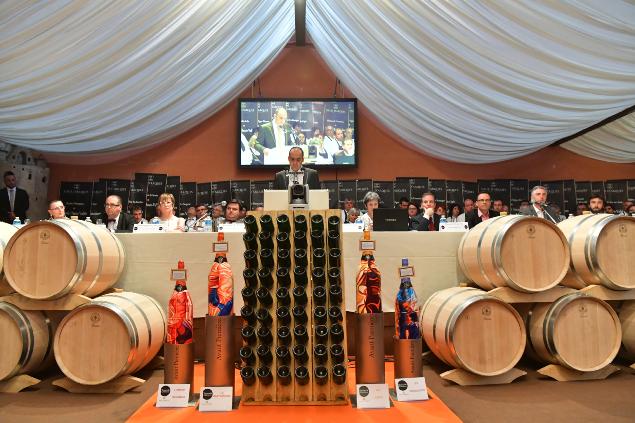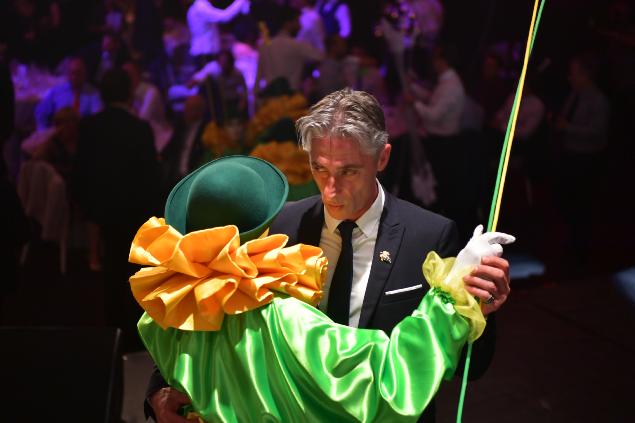 Gala evening
A prestigious gala evening is held for Sieur d'Arques' guests of honour on the Sunday evening of the Toques & Clochers weekend.
Top chefs pair their inventive cuisine with the Vignerons du Sieur d'Arques' vintage wines. This marriage of culinary innovation and wine tradition is celebrated in an ambience of music and dance.
The event goes on late into the night with the traditional carnival of the "Fécos" dressed up as Pierrots and carrying their "Carabènes".
PREMIÈRE BULLE & CHEVALETS (FIRST BUBBLES AND EASELS)
As part of Toques & Clochers, Sieur d'Arques also organises the Première Bulle & Chevalets art event, which aims to showcase the work of artists via a competition and exhibitions in the village.
The competition is open to all 2D graphic art expressions and is based on the theme of "a story always starts with wine ..."
Participation
Competition rules